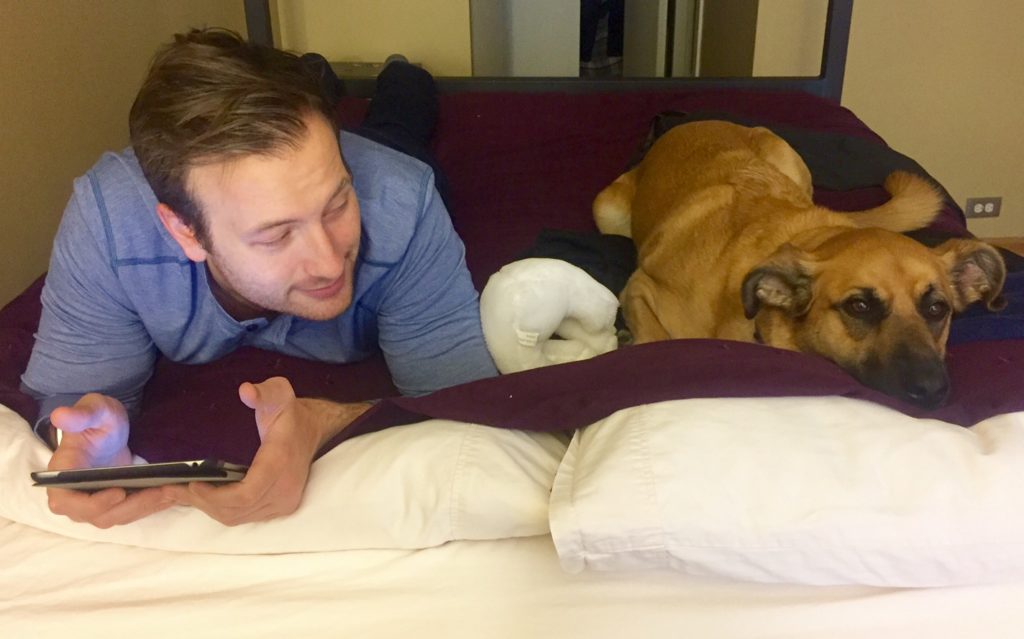 Ryan spent the second month of his surgical rotation in the Burn unit. Patients that end up there may have standard burns or electrical burns, but patients are also sent to this unit for skin and soft tissue infections that can fester in a most foul-smelling manner.
Patients from all over the Midwest are brought to this burn unit for higher levels of care. Many of the patients have sad, traumatic stories about how they were burned. From house fires, car crashes, work accidents, and child abuse, Ryan understandably found this aspect of the month emotionally exhausting.
Ryan was surprised to find out that the burn unit is also responsible for wound care for patients with horrific bacterial infections. The smell of necrotizing fasciitis (essentially rotting dead flesh) is one that will not soon be forgotten by him or any of the team members. These patients were often morbidly obese and had multiple medical conditions that complicated and prevented their bodies from fighting off the infection properly.
On Burns, Ryan was lucky enough to sleep in until 4:30 AM on most mornings since rounds did not start until 7 AM (as opposed to 6 AM on Surg Onc). The schedule for divvying up OR and outpatient days was similar to Surg Onc, yet Ryan found himself less interested in these surgeries compared to the prior month. After seeing some of the most "incredible" abdominal procedures during Surg Onc, Ryan found the Burns surgeries a bit repetitive and less impressive.
Surgeries in the burn unit typically followed the same pattern. First, the wounds were cleaned out and the dead tissue removed. Once the patients were stabilized and the wounds were properly cleaned, they would get skin grafts. This process involves essentially removing a thin layer of skin from a healthy area of the patient via a fancy potato-peeler-like mechanism and transplanting it over the burned skin or previous areas of infection.
A patient's stay in the burn center consisted of multiple trips to the OR for repeat cleaning and grafting. The patient would remain in the hospital until it was clear that the grafts were viable and the patient could tolerate the pain. While it was very interesting to gain a better understanding of the surgery process, the repetition and foul smell made the surgeries lose their luster for Ryan over the course of the month.
The team dynamic during this month was a little smoother than on Surg Onc, although there was still some frustration regarding communication (or lack thereof). That seems to be an ongoing theme of the third-year rotations. Throughout Ryan's month on Burns, three different attending physicians ran the service. Each had their own way of running the unit and taking care of patients, so the transition periods between attendings were often frustrating for the entire team.
All in all, this month was one that Ryan will remember throughout the rest of his career. As a radiation oncologist, he will likely not get to see patients like this frequently in the future. With that logic, he was able to stay motivated and interested in his day-to-day responsibilities even when the surgeries felt repetitive.
Throughout the two months of surgery, one of the biggest challenges for Ryan was remaining positive. Whether due to the sleep deprivation or the stressful working hours, there was always an overwhelming sense of pessimism clouding his mood. Ryan certainly tried to fight off the negativity by taking comments less personally. He figured that as long as he tried to give his best, the criticism and judgments of those around him did not feel as insulting. While the success of this mindset would wax and wane in relation to his general energy level and certain external factors, it is good practice towards a habit that will be useful to him as he moves into fourth-year and eventually residency.
It is definitely harder on the relationship to be so severely deprived of time together on these time- and energy-sucking rotations. Part of me is hopeful that there is only one more rotation until the end of third-year. Concurrently, I recognize that Ryan's last rotation, Medicine, is also more time-consuming than many of the other rotations of third-year. It will mean another couple of months of fighting for considerate moments together, but there is much to look forward to after that.
At the end of June, we road trip to Colorado to try and make more significant progress with wedding planning. In July, Ryan begins his specialty rotations in Radiation Oncology, which he will continue in various venues for the next three months. Granted some of that includes away rotations that will literally separate us for weeks or months at a time, but there is plenty of time to prepare for how we will make the most of it. I also look forward to Ryan feeling greater passion for how he spends his time in the hospital.
It is a love/hate relationship when medical school becomes the third-wheel to your relationship. It propels you towards a future you both crave while also challenging your stamina, priorities, and motivation. We are being tested, and we are persevering.